Top Menu¶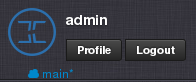 From top menu you can manage your user profile, switch data centers or log out of the Danube Cloud.
User Profile¶
User Profile

User Settings

Address

Change password form

Alerting media

SSH Keys - Public SSH keys, which will be automatically added to newly created virtual servers using disk images with support for import of SSH keys.

API Keys - An API key can be used to connect the Danube Cloud API without using a username and password. A callback key is part of a security mechanism for checking authenticity of callback requests.

See also

Detailed information about API and Callback Keys can be found in the API documentation.
Data Center Switching¶
The data center switch is used for changing the current working virtual data center.

Logout¶
Safely log out of the Danube Cloud Web Management Console.